Review Detail
3.8
1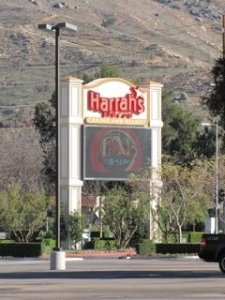 Report from Dana H., January 21, 2008

I just returned from a 3 night stay in my motor home at Harrah's Rincon in Valley Center California.

Harrah's had a huge parking lot off to one side that seemed to be where the big rigs, buses and RV's were parked. There were plenty of spaces and I found an end spot so I could put my slides out and not intrude on another space beside me. Not that it really mattered; the lot was about 10% full. I did find it amusing though when a big rig parked two spaces away from me for a night. Noise doesn't bother me so it was just kind of funny.

I went into the casino and asked them if it was okay to stay in my RV overnight and they said it was no problem at all. The casino was much bigger than the previous one and had an excellent assortment of games in all denominations. I stayed in the parking lot with my jacks down, slides out and generator running at times for 3 nights without any problems. Although there wasn't any security present to speak of, I felt perfectly safe.

If you're looking for an RV friendly casino, this is the place to go.
Comments