Review Detail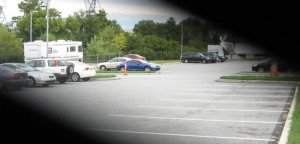 Sep 3, 2012 Report from a reader on our Yahoo! Group
The following report was posted on our Yahoo! group...

NOT RV FRIENDLY. There is no parking area suitable for a Motorhome. The only place to park is at the curb of a DEAD-END side street. We called from 100 miles away to check and were told "Sure, come on!" but found they had nothing but a parking garage for cars. I was really upset when I thought I had to disconnect my toad to turn around at the end of the street. Luckily an 18-wheeler (there's no place for them either) left the loading dock at the right time giving me just enough room for a U-turn. It may be possible to circle around through the valet lot but I wouldn't count on it.

The casino itself is big and nice. They have a nice $20 buffet with tables
overlooking the racetrack. Everyone there was extremely friendly. But I won't be going back with the RV.
Comments