Review Detail
3.7
2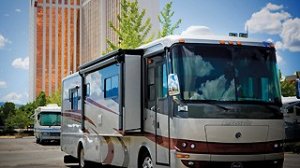 Good location in Reno for downtown
May 2017
Dry camping in truck area no longer permitted.
40 foot back-in site with 30 amp and FHU $35.03 incl tax.
Back in sites do not have shade, some pull through sites have shade.
Free wifi, restroom/laundry card can also be used in Hotel to access pool/spa
Frequent security patrols evening and night.
A really good selection of restaurants and snack bars in casino, also cheap movies.
Comments