Review Detail
4.0
8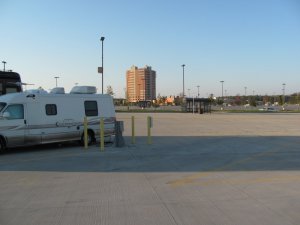 Update from casino management


We have 2 RV Parks:

1. 22 RV spaces are available just north of our main parking area.

· Upon arrival you must register your vehicle and make any payments at the Hotel Gift Shop.

2. We also have a 40 space Downstream RV Park with Wifi service available and plenty of "green space" in this pet friendly Park.

· The Downstream RV Park is located on the South East side of the round-a-bout at our property entrance. This is the intersection of Hwy 400/166 and E Nee Road/Greenwood Drive.

· Upon arrival you must register your vehicle at our new convenience store, the "Q Store" directly north of the RV Park, which you may find convenient for your traveling and shopping needs. The Q Store manages the RV Park and this is where you will register and make payments.

RV Park General Information:

· The fee for use of both RV parking areas is $25 per night.

· Q Club Card holders receive complimentary stays as follows:

o Gold Card Holders: 4 nights free stay

o Silver Card Holders: 3 nights free stay

o Bronze Card Holders: 2 nights free stay

o Welcome Card Holders: 1 night free stay

o Guests who do not have a Q Club card are welcome to visit the Q Club inside Downstream Casino Resort to join the Q Club at no charge).

· A registered RV Park guest may use the hotel pool for themselves and up to 3 guests after receiving wrist bands at the hotel check-in desk.

· We do not accept reservations for any RV spaces. Availability is first come first served.

· All spaces have electric and water hookups available (water service is turned off in cold weather months to prevent damage.)

· A dump station is available at both RV parking areas.

· We provide complimentary shuttle service from the 40 Space Downstream RV Park to the casino at all hours.




Comments