Review Detail
3.5
2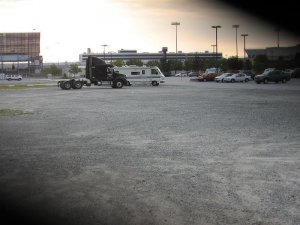 No special accommodation in this nice overnight spot
We didnt see anyone parked in the RV parking area past the asphalt lots for regular cars. Our small RV fit fine in two out of the way spaces in the asphalt lot. We even showed a picture of it in situ to a guard inside, who said he thought we'd be all right there, but that parking lot security might say different. Sure enough, at 7:30 in the morning, parking lot security asked us to move to the gravel area. They were very polite, and I can see their point if the lot gets crowded. We found all the parking to be very level. The gravel area was a little muddy after rain. There is a grassy field behind the RV parking area that was good for the dog; that had been my one regret when we were parked on the asphalt, which was busy with fast moving cars, and which had no grassy area for the dog.

The casino itself is non-smoking. I don't think I've ever been in a non-smoking casino before; it makes for a different experience. There were slots galore, and a decent number of table games. We had a drink in the Fire and Ice bar, where the bar tendr, a very nice young man, didn't know how to make a manhattan. It was an okay spot for an okay drink. After playing some games we had pizza at Frankie's. Again, an okay experieince, no more no less.

We're not huge gamblers, so I can't speak for the quality of that experience. We had a fun evening, and found the accommodations basic and satisfactory. I'd stop here again en route, but it's not a destination spot for me.
Comments