Review Detail
3.9
5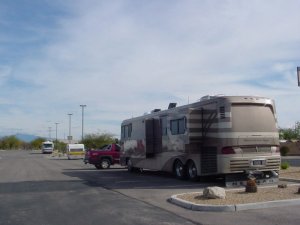 Fairly level lot, lots of room in the south lot. Security came over right away to explain the rules. 7 day limit and gives you a tag with all the rules. Quite noisy with the the air/road/train/generators noise.
Comments
1 results - showing 1 - 1
Interesting that they have changed their RVing policy. I stayed there for 2 weeks last February/March and at that time they had no rules as far as time. But, I did notice an RV that was there when I got there and was still there when I left. They came and went with the RV, but left tables and chairs around where they parked to reserve their spot, which I thought was rude. So, possibly the hospitality offered by Desert Diamond was abused, just like Walmart. Too bad there are people who ruin it for everyone else.
1 results - showing 1 - 1