Review Detail
2.2
2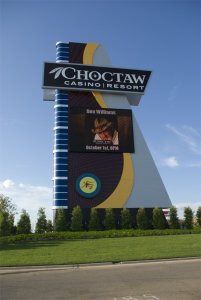 Report from Jim M., August 8, 2010

Here are some new pictures of the Choctaw Resort Casino in Durant, OK. The RV park is across the street from the casino and is operated by KOA... without the A-Frame office building. They have a very nice building, a heated saltwater pool, a little playground for the kids, and a park for the dogs. There is also a regular shuttle service. What more could you ask. Well... Their deluxe sites are 50 bucks on weekends... 40 during the week. The Wi-Fi is included at that rate, and cable TV. Some manage to get Comped for their stay. The facility is spotless throughout.

I asked about RV parking at the casino. They allow short term (a day or so) parking at the South end of the casino parking lot. There is no designated bus or RV parking; they discourage long term RV parking anywhere in the lot. That said, we saw a small rental motorhome parked right by the casino and nobody seemed too concerned. They were only taking up two spaces.
Comments