Review Detail
3.0
5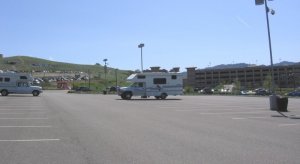 Cache Creek January 29/30, 2017
Stopped here for one night on our trip south to Palm Springs.

RV parking is North of the Casino close to the Fire Hall. The parking lot isn't huge but there was plenty of room for the 5 RV's that were parked overnight. The lot slopes two ways so no matter how you park you are going to have a job levelling your RV. The casino is a bit of a hike off I5 and very rough which gave everything attached to or in our trailer a good shake up. The lot was patrolled by security but no one stopped to talk.

Casio gives new players a $25 credit for gas and food. Had supper at the buffet my card covered me and my wife with $1 left.

Didn't use the Casino.

Bought gas when the truck was unhooked would not attempt it with trailer or motor home.

Overall good night's stay.
Comments