Review Detail
2.3
1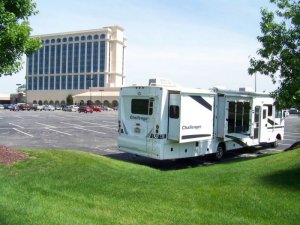 -report from Eric, July 2006

Belterra is a very nice riverboat casino located on the Ohio River, next to the Markland Dam in Vevay, IN (across Ohio River from Warsaw, KY). Between Cincinnati and Louisville, and easily accessed from exit #57 off I-71. Go north at top of ramp to Route 42 and turn left, to Markland Dam, go over dam and turn left on 156; Belterra Casino is then 1/4 mile down on your right.
 
They have over 300 hotel rooms, theatre, many conference rooms, and a beautiful golf course. The casino is definitely located in the middle of no-where but the area is beautiful. No RV park (and no nearby campgrounds) but ample RV parking is located at the west end of the casino parking lot. No water and/or dump station nearby so bring water.
 
Very upscale hotel as can be seen when you get inside. Restaurants include a Starbucks, steakhouse and their buffet with a huge fish tank. We ate at the buffet and the food was very good. Dessert can come from the Ben & Jerry's outlet located inside the casino.
 
I would recommend stopping here if you get the chance.

Comments