Review Detail
3.5
2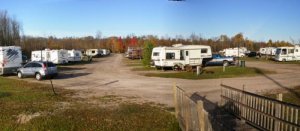 - Report from HTLK, January 6, 2010

The RV park for Bay Mills Casino is really nice. WiFi is available , sites have picnic table, fire ring, some sites have cable TV but not all sites. Sites are all pull thru and within walking distance of the Casino.
 
Free drinks while gambling. Comps are very good. They have a really nice buffet crab legs were $17.00 all you can eat as well as Prime Rib on certain days. Very clean restrooms, laundry room. Nice dog walking area.
Sites are gravel and very level. Shuttle available to take you to a smaller Casino down the road runs about every 20 min. Smoked White fish and Lake Trout are available in a lot of local shops. Soo Locks near by making a nice day trip. People in RV Park are very nice and helpful every time we have stayed there. Have spent a week there every year for the last 5 years in the summer time.

Comments