Review Detail
3.0
4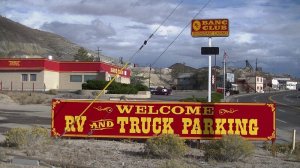 We overnighted here both going and coming to southern climes. They still allow free camping. Like others have said, park at far end of dirt lot from the casino as the trucks tend to park close. Casino is just slots. Cafe had good food. I had a great chicken fried steak there.

Comments
1 results - showing 1 - 1
We stayed here again on our way south. The cafe was closed, and they couldn't tell us when it would be reopened. Had we known this, there is a large and free overnight area near the McDonalds on the other end of town.

1 results - showing 1 - 1