Review Detail
3.0
4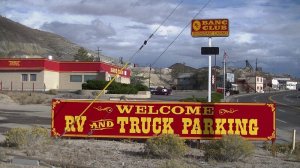 report from reader Jim, April 3, 2008

Stayed at free parking lot at BANC CLUB in Tonopah, Nevada on 04/01/08. It is a dirt parking lot but has plenty of room - be sure and stay to the far side as the trucks tend to take up the side next to the club. This is a small casino with great 1 cent games, a bar and a small restaurant. Each evening from 5-7 PM they have a $50.00 giveaway drawing every half hour- tickets are handled out as you are gambling or drinking in the bar. ALL drinks were FREE.

We had a great time - fun little casino - got to play loads of games and actually won money. Did check out the Ramada Inn Casino and RV park - reservations required (they were full) at $21.95 a night full hooks
up.... Will go back to the BANC Club.
Comments