Review Detail
2.7
1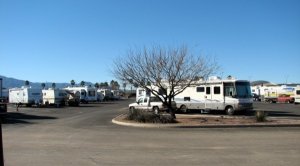 - from Kelly, March 2008
We drycamped at this casino March 2008 in the large parking lot on the east side of the casino (North of the RV park. I think these directions are about right). By the afternoon there were about 10 rigs parked in this lot. There is a dump for donation.
 
There was a "Wheel" to spin just inside the entrance and the possibility to win meals, etc. We weren't impressed with the buffet.

Enjoyed the 3 day stay and Globe is an interesting old town to spend some time and look around.

Comments