Review Detail
3.3
1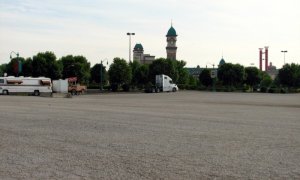 June 2009
(Updated: November 10, 2010)
-report from Karen B., June 2009

We stopped at the Ameristar in Kansas City on our way back across country. The current reports are all accurate and I'm sending a photo of the parking lot.

This casino was a pleasant surprise. Very roomy and well ventilated, not what we're used to finding with riverboat casinos. The websites call it a stationary riverboat but in reality it's completely land based. The décor is a little bit Vegas with lots of stained glass, arched sky ceilings and a bricked street shopping and dining area. All of the restaurants are located together so you don't have to traipse through the casino searching for food. We enjoyed it enough that we would have stayed another day if we'd had the time. The fact that we left $400.00 dollars richer may have figured into that though.
Comments