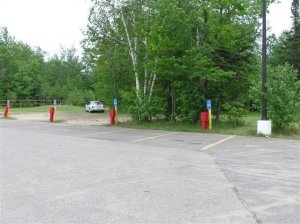 Contact Information
Phone Number:
906-387-5475
Location
Address:
7761 N Candy Cane Ln
RV Parking and Camping Information
Overnight RV Parking Allowed:
Parking Rules:
Overnight RV parking is OK free electric
Casino Information
Liquor Served:
Overnight RV Parking is OK
Map
User reviews
Tiny little casino and just as Tiny for the parking lot. RV's are stacked like sardines in the west parking lot. BUT - there is Free Electricity ! ! 4 pedestals with two sides each and both 30 and 50 amp outlets -- although other 'campers' tell me not All outlets work. Stay here was fine if you weigh the close neighbors with the free elec.. Good location for Pictured Rocks and Bay Furnace and other attractions along the southern Lake Superior coast. Fuel is next door, grocery in town, NO antenna tv, poor radio, AT&T phone and I cheated off the WiFi from the service station. Not bad for some gaming and good local attractions.
This was my first Casino Parking experience and a step up from the Walmart parking lots. Loved being able to plug in to the 30A service. I'm in a truck camper so the space was fine, but it is tight for the bigger rigs. I don't gamble, so I ate dinner instead to payback for the parking space. Buffet was available, but mostly fried food. Menu was limited, so I had the burger; it was decent. The rail drinks were weak, but maybe that's standard in casinos.

Overall, beautiful part of the country - definitely take the boat tour of Pictured Rocks.
This is our third year stopping by this oasis in the north. Free electric hook-up is great. We are 35 ft with a 16 ft trailer behind us. Lined up the rear tires on the edge of parking lot and let the trailer parked on the dirt/gravel behind us. Cute little casino. Lots of slots, about 10 card tables of 4 were open during our visit. Slots were average. No fortunes made. Had some of the best ribs I've ever had just across the street at a small restaurant/lounge called "Foggy's". They really did fall off the bone! Fuel & liquor next to casino. Restaurant in casino was menu only, but nothing spectacular there.
Report from Norm Payne, August 12, 2010
See Ya' Down The Road
http://www.seeya-downtheroad.com
 
There are about eight back-in sites on the back of the parking lot on the right side of the casino. Each has 50-30-20 amps, but there is no water or sewer. There is a state park campground across the highway where campers can dump and take on fresh water for a fee. The sites are on pavement and are short, but we stayed in a 41' motorhome and didn't stick out too far in the parking lot.
 
It is a small casino, but they freely handed out vouchers after we played slots one night. We got one free lunch, one free breakfast and other discounts in the restaurant, plus free slot tokens for being seniors. There is no time limit on how long campers can stay.

Report from Diane & Dave, June 9, 2010

Here is a new casino for you to add in the Upper Peninsula of Michigan: Kewadin Casino, Christmas, Michigan. It's about 3.5 miles west of Munising, Michigan.
 
There are 8 FREE 50/30amp electrical posts in the back of the west lot (see photo). The spaces are short, only about 20 ft. However, there are a couple of spaces where you can hang over into the dirt lot behind. And a couple of spaces where this will not work because of the trees. This is a small lot and there is highway noise very close. In Munising, the boat tour to Pictured Rock National Lakeshore is interesting.