Review Detail
3.4
3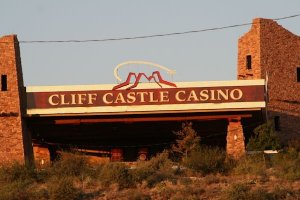 Report from Lou and Sue, April 30, 2010
My wife and I have stayed at the Distant Drums RV park owned by Cliff Castle Casino. It is a great place to spend the Winter for snowbirds and it is also a great place to spend a few days gambling or see the many sites around the area, The camp ground gives numerous discounts and has varying rates based on the site you pick.
 
The park can accommodate large motorhomes with their numerous slides. The park has a pool, whirlpool and the best shower and bathroom facilities I have ever seen in a RV park, each shower/BR is a private one which you get a key at the registration desk. It has full hookups, free WI-Fi, cable TV. I highly recommend this RV park and casino.
 
The casino has an excellent steak house and an excellent restaurant along with a Johnny Rockets. The hotel also has an excellent restaurant, all are very reasonable. The Casino has been voted the best in Arizona for 11 years in a row. Have fun.

Comments