Review Detail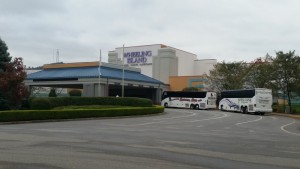 Excellent if limited stopover
This is a modest-sized casino with slots and table games. We saw other RVs parked in section C, so that is where we parked. There didn't seem to be a need to check in with anyone. Very level. NIce and quiet overnight. Easy walk to casino. Casino personnel were very friendly.

One thing we always like about dry camping at casinos is the ability to pull in late at night and still have eating options. Not so much here. The Pointe, their steak house, was closed (Monday night of Columbus Day weekend). The buffet had already closed. Our only options were the deli and the pizzeria. We had pizza, which was okay.

The approach road we took, following GPS instructions, was a minor road; could be a challenge in something bigger. Still, overall a very handy spot for a quiet night stopover with some gaming activity.
Comments