Review Detail
4.1
4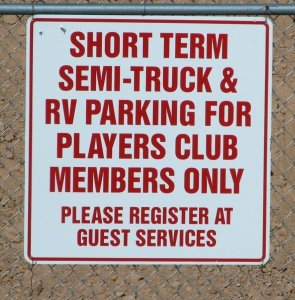 -report from Karen B., January 2009
Parking is still in the same lot as in Boni P.'s directions although there are now signs and you are required to register at the casino. Security will give you a list of rules and a paper to display on your windshield.
 
This is the policy - Three days only per RV. If you are a players club member you can extend your stay for more than three days after earning 1500 points. If you are actively playing in the poker room you can extend your stay also. You must leave and return after you have stayed 6 days and 6 nights for 24 hours to stay an additional 3 days.
 
We went into the casino but didn't stay long because it was a Friday night and very crowded and smoky. Mostly table games with a large poker area. This is still the old casino with prefabbed tent type structures. The new one is in under construction.

Comments