Review Detail
3.7
5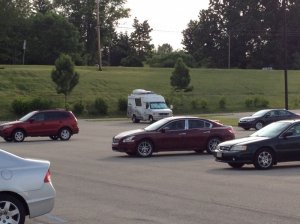 Parking lot is the best attraction
For a safe, quiet spot to overnight for free, Presque Isle Downs is pretty darn good. Just off I-90, there is nice, straightforward access into a spacious, level parking area. We didn't notice any designated area for oversize vehicles. We parked in the big lot near the entrance. There was no registration.

Do NOT cross the little bridge to try to park closer to the casino and racetrack: there is nothing for you there. Across the bridge lies valet parking and a tight parking lot where it's hard to maneuver. The walk to the casino from the front lot can be done. It takes a little longer than I like, but there are also shuttles.

Security came through the lot occasionally and it felt safe to us. There were some small grassy areas, adequate for basic dog-walking if a little small to really let him romp.

The casino itself is small to mid-size. Slot machines and table games, and the race track of course. Some very basic food choices on the casino level. If you go to the second level on the race track side of the casino there is a nice bar/lounge where you can have a sit-down meal. All the casino personnel we met were very friendly.
Comments