Review Detail
2.7
5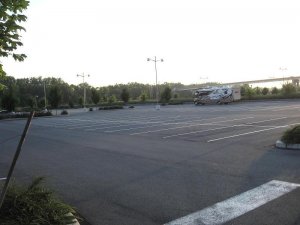 Some late night hijinks, but okay overall
We arrived on a Sunday afternoon and found the parking lot very crowded. The bus lot nearest to the casino is for buses only; we were directed to the lots beyond the valet parking and self-service parking for hotel guests.

At the extreme end of the parking area is a large lot near an old (and picturesque) smelting plant. There are angled-in parking for oversized vehicles on either side of the lot. On the Sunday we arrived this lot was filled with regular cars that had parked head-in on the sides and which had created and additional row of parked cars right down the center of the lot. As evening came on this lot cleared out. On the following weeknights that we were here, there were no cars parked at all, and there was plenty of space for RVs.

In addition to the big lot, there were a few oversized spaces along the side of the access road. These were not filled when we arrived, and we parked in one when we arrived on Sunday. These spaces were unmarked, and we weren't 100% sure it was okay to park there, but a passing security car waved to us, so we figured we were all right.

Dog owners: there is *no place* to run or walk a dog other than the paved parking area. Landscaped areas are few and prickly.

There is an active railroad line that runs the length of all the parking areas. Several trains passed though the night. Not overly noisy, but you know they are there.

Security. There was no need to check in or register. We were told by several people that the lots are well-patrolled. There we certainly guards galore working when we arrived on Sunday. They were less in evidence during the week, as we came to discover. At about 10:00 PM on Tuesday two cars came into the parking lot through a back entrance. While there were cars parked in the hotel area, the self-park area for the casino and the RV lot were pretty much empty. With all that empty space to pick from, the two cars parked right next to our RV. About seven young people got out of the cars and started to party. They didn't do anything threatening, but they were loud. And we were, I think, understandable concerned about why they picked that one spot to park in. Up until that time we had been seeing a lot of security patrols passing, so we waited for half an hour, hoping that matters would take care of themselves. Eventually we decided to call the casino to ask for a patrol to make sure everything was according to hoyle. About 10 minutes later someone came out and asked the group to move along. Both cars put down rubber leaving the parking area. So no harm done, more an annoyance than anything else, but we did feel a little intimidated and isolated.

The casino is only a short walk from the farthest parking area. On Sunday there were parking lot shuttles; didn't see those during the week.

The casino itself was nice. Not just slots; many table games. Several nice restaurants to chose from, as well as food court offerings. We ate at an Irish pub and had an acceptable meal; we probably would have been happier if we'd picked pub-grub rather than the more high end choices we made. On Sunday night everything was open and everything was crowded. Some of the restaurants alternated being closed on weekdays, as did some of the bars.

There is also a small mall attached. Decent enough stores, though nothing to make this a shopping destination in my opinion.

Bottom line: we might go back is we're passing this way and need a spot to overnight, but we won't particularly look forward to it.
Comments
1 results - showing 1 - 1
1 results - showing 1 - 1