Review Detail
3.8
5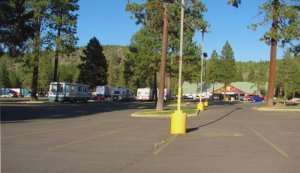 May 2019 - Highly recommended !!
What a Wonderful little place. VERY rv and people friendly ! Check in each day you are here and tell them you're in your RV and receive a $2 voucher AND $2 free play Each Day. New members receive 20% off food voucher and $10 free play. We're on our 2nd day and no one has known anything about a stay limit and they are so happy and greet and remember us each day we go in. Maybe we'll stay Forever :-) !! (not) Service station has water spigot's but they are locked but might open if ask. Unfortunately no dump at station or it really would be perfect ! You can stay under the trees (probably best in summer), we stayed in the open gravel area to have more solar access, road noise was minimal at night and there is hotel on site if you wanted.
Inside - nice restaurant with decent prices ($2 voucher) . Slots seem ok (we actually won a little) and VP is 8/5 with progressive for RF. Blackjack tables only and only open late in the day, so not much with the table games. Crater Lake National Park 45 min. drive / Klamath Falls Fred Meier 25 min. and Easy hwy. access for wherever you're going. We HIGHLY recommend this facility for a wonderful travel experience !
Comments