Review Detail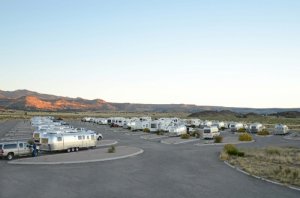 A regular stop when traveling I-40
(Updated: September 27, 2015)
Be sure to ask for the "billboard rate" of $18 when checking in to the RV park. Otherwise, the Good Sam rate is $21. Last time we stayed was August 2015 before writing this review.

Casino does not allow dry camping by RVs. (Editors Note: Overnight RV Parking IS allowed again. See the comment on this review). To stay overnight here, you must use either the hotel or RV park. Campground is sometimes filled with weeds, other times well groomed just depends where in the maintenance cycle you arrive. Showers and restrooms are very clean and modern.

Campground occupants are allowed to use the hotel facilities, including a very nice pool and exercise room. For the price, it's hard to beat it.

Restaurant quality used to be better but it's still good. If you sign up for a player card, you get a coupon every day for $2 off a buffet.

The travel center has a McDonalds and a small grocery. The fuel islands are easily accessible and we have usually found their diesel price to be the best within over a hundred mile radius. We always top off our fuel when we stop.

If you are going to be here more than just overnight, I recommend the tour package. It includes camping and tickets to Acoma pueblo, the oldest continuously inhabited settlement in America. Interesting tour and lots of opportunity to buy local crafts.
Comments
1 results - showing 1 - 1
Update from our stay of September 22, 2015. Overnight parking is again ALLOWED. After seeing RVs parked with the trucks, I asked security about overnight boondocking. Was told it's permitted, RVs are requested to park either with the trucks or in a lot to the east of the casino. He did not say a player's card is required, but if I were going to overnight here, I would have one.
1 results - showing 1 - 1