Review Detail
2.8
3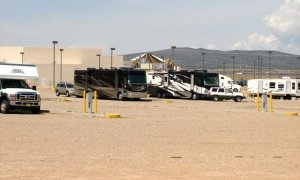 The latest from Hollywood Casino
We had not been here for several months and the listings say the Campground electricity costs $20 in September and October, with $10 otherwise. We got here yesterday, August 26, and were charged $20. We are parked in site B6, along with some dried out horse droppings.
This 'wonderful' campground is almost level, with locked electrical boxes only, at every site. "Drinking" water is available at the 2 dump stations. There is also a dumpster at one of the dump stations.

The slot machines in the casino have mostly gone to penny games, with a few of the older popular ones. There are five poker machines left.
The buffet room looks active, but we have not been there for over a year. It was acceptable the last time we ate there. The snack bar is shut down for modifications.
Comments