Review Detail
2.8
3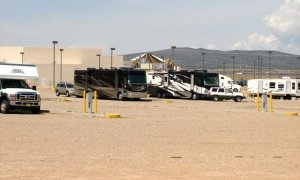 -report from Boni, September, 2007

We spent the nite at the above casino on August 30,2007. It is a few miles north of Albuquerque, NM, I25, exit 252 east. There is a truck stop and small casino. (There's also a race track with sprint car racing advertised-I don't know what happens to the RV parking when there is a race as the RV parking is very near the race venue.)

For RV parking, there are about 40 curb/island spaces, each with electric available. The electric is $10 for 24 hours. Electric posts are locked and keys available from security. You are invited to park in the same spaces for free if you don't want electric. There are 2 curb/islands that each have RV dumps and water, and also a huge dumpster. All is well laid out, very easy access, reasonably level, and far enough from the truck stop and highway to be rather quiet.

We don't gamble, so can't report on that. There is a lunch and a dinner buffet, but we don't do buffets, so can't report on that either. There is a restaurant in the truck stop with Mexican/American Indian menu that looks interesting, and they have a breakfast special.
Comments