Review Detail
3.6
2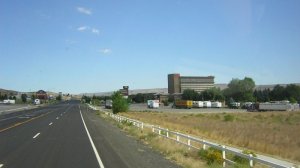 from reader J. Buechler, April 2006.

Cactus Pete's in Jackpot, NV. Pull through sites all year in the overflow area with electric all year and water May to October. Also full hookup park in season behind Cactus Pete's with a shuttle from casino to your rig. Believe we paid $14 off season in overflow park last January. Cannot recall price of park preceding summer as we used points to pay for the site. If you are registered in the park you also are allowed use of the pool and spa at the hotel. There is also plenty of room to dry camp in their parking lot or in the parking area of the Horseshu across the street. Be aware that many big rig trucks also park in these lots and in the colder months they keep their engines running which might disturb the lighter sleeper.

Four casinos to choose from for all types of gambling. We've been visiting Jackpot for many years and love the small casino experience. Cactus Pete's has an excellent high end restaurant for elegant dining as well as a good buffet, coffee shop and snack bar. The other casinos also have several different choices for food.
Comments