Review Detail
3.9
3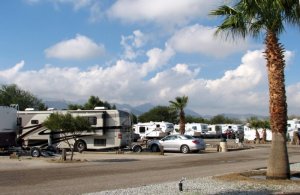 Make sure your Advantage card is updated 1st.
Then proceed to the Security Platform in the Casino,fill out their form, bring it back to Security.
They then take your information and print out a front windshield pass for you. Then an inspection officer
walks out to your rig & does an inspection also asking to see registration and insurance.

Now if you want to extend your dry camping stay beyond 3 days you will need to do the following :

During each 3 day stay, Player's Club Card must reflect a minimum of ONE of the following:
Play 1 hour on the table games Earn 25 points on their player club card
Play 4 hours in the Poker Room Have played $30 in Keno tickets.

To earn play minimum levels members must use their Advantage Club Card during play.
BTW your card # is listed on your windshield pass.

Good news is if you are lucky enough to park in the first row ( dry RV parking ) you are close enough
to pick up their WIFI signal ( pretty decent speed too ! )
On the other hand the KOA RV park had the MOST SLOWEST speeds I ever seen anywhere !
Comments