Review Detail
4.1
3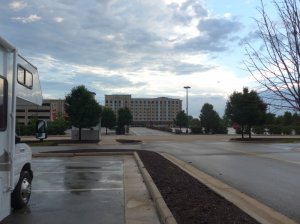 January 24, 2010
(Updated: November 09, 2010)
Report from Lawrence R., January 24, 2010

In St Louis Off of I-55 one mile east. In March 2010, the new River City Casino with 2000 slots and 60 table games will be opening. Pinnacle is the owner and this looks very nice from the on line site camera. They operate Lumiere casino in downtown St Louis with no RV parking really available there, but this new site has 55 acres and large parking lots apparently. It should be checked out for free parking on the lots as dry camping. There is not an RV park at this site yet and none is planned that I know of at this time.

There should be more signs on I-55 to direct vehicles. This location is about four miles south of the Busch brewery just out of downtown St. Louis and just near the older suburbs in the St Louis area called Affton and still between downtown and I-255/270 which circles the metro area. Lumiere runs as a complete casino with many extras and lots of restaurants so River City should have plenty of what people want. They have spent a bunch for road access and more. It is right next to the Mississippi River and is a platform "boat" of 90,000 SF. This casino may be one of the leaders in volume but time will tell.
Comments