Review Detail
3.3
8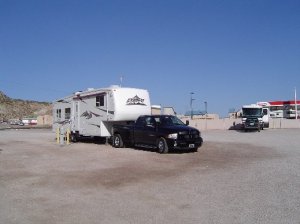 Oct. 15, 2010
(Updated: October 21, 2010)
I stayed here three nights. Purpose of staying here was to visit the Acoma Pueblo (Sky City). It is a gravel lot with water and electric hookups. There are 6 dedicated pull through spaces and the others are back-in up to a wall.

Propane and dump station available if you need it. Spaces are close and laundromat closed. Recommend arriving early if you have a big rig.

The physical location is the south east corner of the intersection and the correct coordinates are 35.031300°, -107.475288° (both by Google Earth and Garmin GPS)

Dry camping is allowed in the main parking lot.

Cannot comment on the casino nor the restaurant, I was told the former was smoky and I stay away from smoke. The latter was reported to be good be it was too far for me to walk.

You can get a $10 credit on the camping fees if you register for the Player's Club. They also of a $10 gasoline credit.
I would stay here again. I drive a 40' DP and tow.

Comments