Review Detail
4.6
3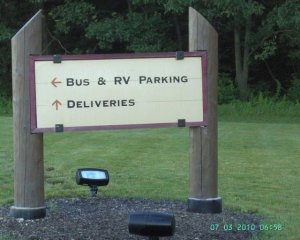 Large and fairly level asphalt parking area for buses, RVs and truckers. Beautiful place, rivals Red Rock Station in Las Vegas. Picture a modern Native American Lodge with Frank Loyd Wright accents built with no expense spared.

Some VP fairly good, 9/7/5 DB, 9/5 JOB Prog, was over $6000 when I played it.

Very good dining options. Buffet was excellent. Copper Rock steakhouse was beautiful and the menu looked good. Wine list is good, 400+ wines. One negative is the Cafe isn't open every day, so there's no standard sit-down restaurant like a Las Vegas style coffee shop. You have a counter service sandwich shop, the steak house, and the buffet a good part of the time. They need a casual dining restaurant open 24ish/7/365.

Did I say it's a beautiful place? Really impressive. We will return.

Comments