Review Detail
4.5
1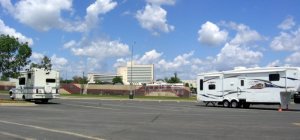 -Report from Karen B. July 2007

There's only one parking lot where overnight dry camping is allowed. It's located at the campground office and there's a $10.00 a night charge. If you need hookups the campground is really nice between $30.00 - $40.00 a night. Follow the signs for RV parking. Everything is well marked.

It's a short walk to the casino and there's also a shuttle which runs frequently.

Dry campers have access to the dump station and can get fresh water at an unoccupied RV site. The office also has free WiFi which worked great for us in the parking lot. I don't think that the signal is strong enough to work in most of the campground.

The casino is very big with every type and denomination of machine available. The video poker pay tables looked better than what we have been seeing in other Indian casinos but by state law the pay out percentage for VP must be between 83% and 98% so they're limited by that.
Comments