Review Detail
3.8
7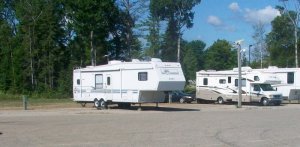 There have been improvements since the last reviewer's update. We arrived and followed the clearly marked sign for RV parking. The casino has installed 21 brand new hookups along two sides of the parking lot. Each spot has a new 20/30/50 amp pedestal and a water spigot....but as of August 16, 2011, they had not turned on the water. We backed in, plugged in, and went to the casino's hotel check-in desk to register. They took our name and vehicle data, and asked us how long we wished to stay. Get this.....it's all free! We stayed 3 days and visited the area and the casino.

There is a garbage dumpster available, but I saw no dump station. I'm not certain this qualifies as just "overnight parking" or a full-fledged "RV campground".....probaly somewhere in the middle. During our stay, the RV hookups were about half full. Also, some RVers just pulled into the lot and spent the night without plugging in. The lot is plenty big, and reasonably level.

My favorite game is craps. The casino had one craps table that only opened beginning at 6 pm. There weren't many people at the table when I played....but the minimum bet is only $2! It's been a long time since I've seen that.


Comments