Review Detail
3.6
2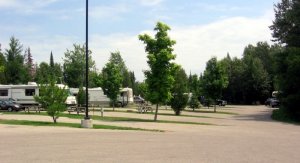 - report from Karen B, August 2007

This casino may have shortened it's name. None of the signs that we saw used the "Chip-In" designation.

We had been planning on staying at the casino campground because our book said that RVs had to use the campground but when we got to the casino there were already other RVs parked for the night. The parking lot is huge and there are no signs prohibiting over night parking. We decided to do what we normally do it which is park and see if anyone asked us to move. About four or five RVs spent the night so unofficially it seems like over night parking is okay.

The campground is $15.00 with water and electric- no sewer. Most of the spaces are pull through although some of them have two sites in the same pull through. The park office is not manned. Pick a site and register at the hotel desk. There's a phone outside of the campground office building to call the casino shuttle. The dump station is located in the casino lot right before the campground entrance. It's functional but poorly designed and unsanitary.

The casino has recently been expanded and remodeled so it's fairly large and nice. We lost our allotted gambling money extremely fast so our casino visit was very short.

Comments