Review Detail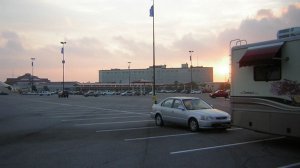 report from Judy, September, 2008

We happened by Coushatta quite by accident Jan. 2007. Planned to stay overnight and ended up staying a month. We went back and stayed another month Feb. 2008. We had never gone south for the winter before (live in Wisconsin) so we were VERY lucky to find Coushatta. We loved it!!

Kinder is a small, friendly town. Has a nice grocery store and several places to eat. We stayed at Red Shoes RV park, the shuttle bus ran through out the day and night at least on the hour, but more like every half hour. The staff are great, friendly and helpful. We used coupons from their online site, pay for 3 nights and get 2 nights free. Free newspapers daily at the RV lodge. Free breakfast rolls on the weekend.

The sites are cement pads, level and full hook-ups. The weekends fill up, so the best time to arrive is during the week. The casino had good gaming, good comps, good places to eat for all budgets, from the steakhouse, to a "sandwich" stand in the far corners of the casino. The buffet is very good. They also have a huge center where they host various horse shows, concerts etc. in a separate building.

When we left the RV resort this past winter, they refunded us 2 nights stay for no reason given! I always do fill out the customer comment cards, so I think this might be why. (I fill them out honestly the good and the bad!) I always comment on and get the names of exceptional staff persons. They also have a good storm warning system, and the shuttle buses picks folks up and take you to the main casino for safety.

I have always found the showers an bathrooms to be clean. Security is very visible. My husband asked if the casino would want to donate cards for our seniors and various places that have card nights, and they very gladly sent home many decks which we have distributed to many places.

The highway going by the casino and through Kinder is being worked on, I think they are making it more lanes, which is a hassle, but well worth it. We will return this winter and hopefully many more in the future.

The picture I have sent is our "transportation" sitting in front of the pond overlooking the RV resort. By the way, the pond is stocked with fish for the "fishermen"
Comments