Review Detail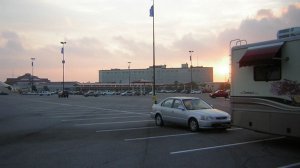 report from reader L. Dixon, February 2006

We pulled into the parking lot at the Grand Coushatta Casino in Kinder LA late in the afternoon. We discovered a tire on the trailer was deflating. We decided it was to late to deal with it so we went in and had dinner and played the slots.

The meal was excellent and we lost our money slower than usual. The next morning I asked the person at the door who in town would come out to change a tire. He said not to call anyone, he said he would send security out to us and they would change the tire for us.

They came out and changed our tire free of charge. We stayed another night due to rain and high winds. Once again we enjoyed a great meal and some fun slots.

They also have a very nice RV Park next to the casino we stayed in the park a couple of years ago.
Comments