Review Detail
3.5
2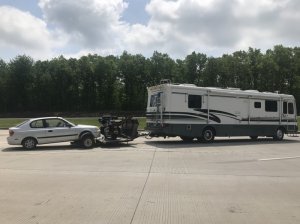 We were exhausted from driving and took a chance on this one. We arrived around 5pm. GPS got us there without a problem. They do have a huge parking lot behind their hotel where we noticed trucks parked so we found a spot for out 38ft Class A. We are always towing a trailer, motorcycle and car. We were the only RV parked there for the night. I can only assume that's because of the information even on this site. So I decided to write this review.
The casino is a good distance away from the hotel so they offer shuttles for their guest. We drove our car. I told we we were tired. Security was on duty throughout the night driving around the parking lot every 30–45 minutes and they didn't bother us at all.
I was so prepared for them to ask us to leave but nothing. So I would say this is an RV friendly site.
Comments