Review Detail
3.5
9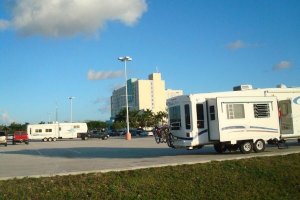 Perfect spot...and wonderful crablegs
We are so happy to find this website and find this casino on your list. We are on our way to the Keys in January and couldn't find an RV park with an available space for an overnight stop. RV parking is in a large lot at the back of the casino, but an easy walk to the building. Grassy areas around for dogs. A security officer in a golf cart came by a few minutes after we parked, very nice, welcomed us and asked us to register inside and get a placard to put on the windshield...but "no hurry". We overnighted on a Friday night and went in for dinner, and when we came back out the RV lot was full of cars all around us, used by casino guests as overflow parking. On retrospect, we could have parked further back to leave room but when we arrived, there were plenty of spaces. Signed up for Players Club and got $30 in free play so had some free fun. Got some dinner coupons but they were only good Mon-Thur. That didn't matter because the 1st floor restaurant had a seafood buffet for $15.95 pp with the most amazing...and huge...crablegs, and wonderful peeled shrimp and coconut shrimp among other things. The crablegs were top notch...tasty, firm, chilled..and plenty of them. I was surprised at the quality for an all-you-can-eat buffet, and for the price. Smoking is allowed in the casino, and even in the restaurant, but the ventilation system took good care of it quickly. There are no table games except poker and bingo, but plenty of slots. It was a nice evening.
This will DEFINITELY be a regular stop on our way to/from the Keys.
It IS a parking lot, and there was noise throughout the night from casino guests arriving/leaving, and a car alarm started going off about 8 a.m. For a free lot, it was perfect for us. We felt safe and enjoyed the activity around us.
Comments