Review Detail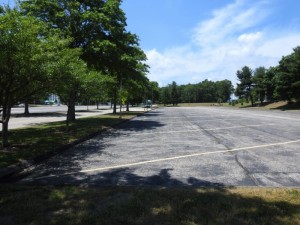 Decent, convenient stopover
We camped at Foxwoods in August 2012. RV parking is in the Rainmaker parking area. Finding it and getting to it is not hard. The area is of moderate size at best, especially when compared to nearby Mohegan Sun. We were at Foxwoods on a weekday and there was ample space to park; weekends might be more of a challenge. Most people seemed to favor parking along the perimeter; we had better luck getting level by parking crossways in the middle of the lot. Perimeter puts you next to grass and shade, so there *is* an attraction. There are decent grassy areas for dogs. There is a shuttle stop convenient to the entire parking lot. There is a garbage can at the bus stop.

We saw a couple of RVs in a second lot on the other side of the access road. I did not see signs for RV parking there, but it seemed to be okay. Can't say if it was better than the designated lot for any reason.

There was some construction going on at either end of the lot. The end nearest the casino was either building or improving an access road to the main road. At the far end it looked like a gas station being built. Earlier reviews talked about a noise problem, but we didn't notice.

There was no check-in. Posted signs said to call the security number to report in; when we did, they just asked how many nights we'd be staying. We told them we were just there overnight, and they said we were set. They did not ask about the RV, license number, nothing.

The lot has lights and security cameras. A shuttle ran the short distance to the casino about every ten minutes during the day and early evening. We saw a security car pass around once or twice. Comparing again to Mohegan Sun, it was not as much of an obvious security presence. Then again, at Mohegan Sun the RV parking is more distant from the casino. At Foxwoods you are less far away. It was only a 5 minute walk to the casino, or a short hop on the shuttles, which seemed to run frequently.

The casinos are huge! Lots of games and slots. Looked like there was something for everyone. If you're compulsive about seeing all there is to see, as we are, be prepared to do some walking. The MGM Hotel and Casino is farthest away from the RV side of the complex, and its a bit of a hike. All nicely maintained. Not as exotic a feel as Mohegan Sun; kind of like a themed shopping mall. If Mohegan Sun is Disneyworld, Foxwoods is Universal Studios.

Some nice dining and drinking options. We ate at David Burke Prime, where they have a $5 burger special during the day on weekdays. Way better burger than the Fuddruckers upstairs, and less money to boot!

With Mohegan Sun just down the road, which casino would I stay at? Depends. Mohegan Sun feels more like a destination to me; Foxwoods wins for convenience. Foxwoods felt better for gaming, Mohegan Sun gets some points with me for dining. They are both worthy stopovers.
Comments