Review Detail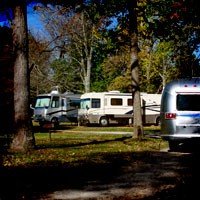 Report from Ron and Jean, July 6, 2010
 
We were quite impressed with the campground at Hessel -- not so impressed by the casino; but it was a great place to spend the night.  
 
Since they have an RV park and charge only $5 or $10/night, they prefer that RV use the park for overnight stays.

* 5 Back in sites with 20/30A only
* 6 Pull through sites, have 20/30/50A electric and sewer – (50A is not indicated on web site)
* 30 dry camping sites with no hookups

Sites are mostly level, gravel, and pull throughs are up to 120'. Located across the road from the casino about 300 yards and there's no shuttle. There's a dump station with potable water. No showers or laundry. Gravel access road is narrow and bumpy but was OK for 41' motor home.
 
Casino has a snack bar only. Slot machines only, no table games.

Comments