Review Detail
3.5
7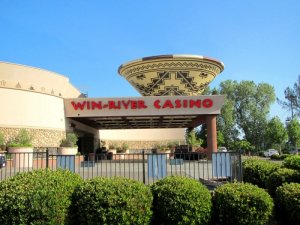 Good Value for Overnight Stop in Area
Was disappointed that dry camping was eliminated, although it was replaced with an amazing parking area! Excellent amenities including grassy area with trees on perimeter, small dog run enclosure, dog poopy stations, grills/smokers and concrete picnic tables. Easy In and Out on perfectly level concrete. Only thing missing was wifi. I spoke to the Manager about this, as it is provided for WinRiver's hotel guests. Am sending some updated pics later to Webmaster.

If you have checked out California's campground fees, you must be aware that they are ridiculously high; so $24 for this overnight spot (with the $10 Play Card), is a bargain. Most Redding campgrounds are $40+.

Check the entrance out on Google beforehand; it is a little tricky. Watch the speed bumps.

When you check in and pay at the Players Club window, you are given a $10 Promo Card and a decent quality RV Sunshade. The Promo Card must be used on a single machine or you will lose the credit! This happened to another couple and Management did not restore their credit even though they were unaware of this restriction and appealed.

The only other detraction was lack of regular shuttle; the RV park is at the very furthest possible parking area from the side casino entrance and is a modest hike. They have golf carts running around but there is no schedule and no number posted to phone for a lift. I also mentioned this to the Manager.

Casino itself is a bit dated and food is pretty average and uninteresting. I got their specialty burger which was a good bargain and delicious.

This is a good, quiet resting place if you want to make an early AM crossing across the Shasta-Trinity Mountains to Arcata/Eureka and beyond.
Comments