Review Detail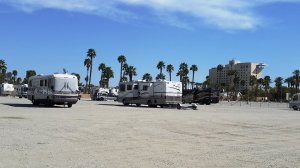 Report from "Wanderin", January 2010

The Fantasy Springs Casino is easy to find if you're traveling east of Palm Springs. Just take the Golf Center Parkway exit and follow the road north and then wrap around to the right with the road. The parking lot for RV's is on your left as you enter the casino area. It is a large gravel parking lot across from the casino. We were amazed at how many RV's were actually staying in this lot. However, since the lot is so big it still isn't packed. The sign indicates no overnight parking but security really doesn't care how long you stay ... within reason I'm sure.

The casino offers a newcomer's incentive by giving you $50 worth of play for $20 when you sign up for their Player's Card. This is a big enticement.

The lunch buffet is $12.99 but it is fabulous and I do mean fabulous. The food is elegantly displayed and the desert bar is overflowing with luscious calories.
Comments