Review Detail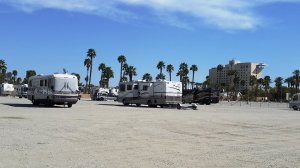 Report from Kent and Margaret, November 21, 2009

We camped here for two nights. The parking area is a gravel area across the street from the casino. This is just a parking area which has signs "No Overnight Camping" but when you call security at the number listed they say to camp as long as you wish. They do want you to come to the casino and try your luck. There are fine restaurants there.

The experience here is totally free dry camping with others camped nearby. There is no dumpster for trash so just take it to your next stop. Since the parking is close to the Interstate, it can be noisy. We would stay here again. We camped here in a Motorhome.
Comments