Review Detail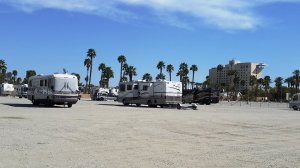 This review contributed by: Ron and Tina Lorenz
Visit our RV website at
http://www.rvunplugged.com

Rather nice as casinos go...with a half way decent buffet too. Apart from the usual gambling den flooded with noise and neon, the hotel and restaurant part of the casino is surprisingly upscale.

We could care less about gambling, but if that's important to you, plenty of opportunities abound.

Lots of "water features" all around the grounds, with some very nice landscaping, complete with flitting hummingbirds in the hibiscus garden, and grapefruit laden trees.

We were happy with the restful areas to sit outside scattered with chunky mission style upholstered furniture, and a big dirt parking lot out back for your RV.

Signs are posted that say no overnight parking or camping, but one guy said he'd been there for 18-days without a problem. There was an average of 8-10 rigs there each night, plus a few truck drivers. We stayed two nights and nobody batted an eye.

They seem to have a surprisingly good lineup of entertainment in their Special Events Center. Bonnie Raitt coming in February, as well as Alison Krause. The Event Center is adjacent to the RV parking lot, which is actually their special event parking.

So I suspect you might get chased out if you try to stay there on one of their big entertainment weekends.
Comments