Review Detail
3.0
5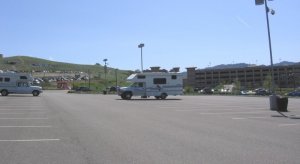 Great place to stay and enjoy
Security patrol met us shortly after arrival and escorted us to the uppermost car park where we found a reasonably level site, only needed a 2 inch board under one side, nice view overlooking the casino and valley.
Bus shuttle to casino approximately every 15 minutes - 24 hours, to return simply ask valet attendant to call shuttle.
New members receive $25 card which can be spent on anything except gaming or alcohol - we had an excellent buffet dinner for two and when leaving in the morning used the other card for gas!
Fuel station has only one entry/exit, so may be a bit tight for big rig with toad.
Comments