Review Detail
3.0
5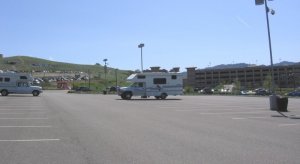 Cache Creek Casino November 15th 2016
Cache Creek Casino at Brooks, California (N38 44.157 W122 08.622)
2-3 hours south-west of Rolling Hills is another Indian casino, officially called Yocha Dehe , it is located on Hwy 16, north off I-505, the freeway bypassing Sacramento from the north joining I-5 to San Francisco. Easy enough to find, Cache Creek is enough off the beaten path to eliminate most truckers. Becoming a theme of my casino camping career, I made a wrong turn en-route leading to an unscheduled tour of local farmlands. Roads were getting so small that I thought maybe they would run out in a field somewhere (a concern for me because I can't reverse to turn around with the Jeep hooked up). Eventually I made a 10 mile circle and got back to the highway.
On arrival, I parked in the south lot as it was large and fairly flat, although a fair hike to the casino. Once there, a friendly security lady told me that RVs should go to the north lot, around the other side. This I did and found a few other campers on a sloping, paved surface underneath the local fire hall. Using a single board under each downside tire and the air-levelling system, I managed to flatten out. Almost immediately, a shuttle bus arrived to take me to the casino. An excellent service, these continued all evening and for all I know, through the night.
The buffet, at $11.95, was exceptional, as most of them are, so I pigged out and returned "home" to rest in my chair in front of the TV. The buffet is closed on Wednesdays and Thursdays. In total, there are 8 food outlets including a Chinese restaurant, steakhouse Grill, a deli, sports bar and others that I forget.
New patrons to Cache Creek are given a $25 credit on their Player's cards. Strangely, these are designed to be spent only on secondary services such as food services, gift shop, even fuel at the service station plus golf, but not for gambling. I didn't totally understand the rationale here but happily chowed down two meals for free and then, in a fit of remorse, donated $10 to one of the slots.
Golf, at $90 was a little rich for my blood, so I decided to pass on that. The course, just up the hill from the casino, appeared very picturesque.
Cache Creek is the biggest casino that I have ever seen with slots and table games stretching to the interior horizon. It also has a huge, city sized parkade for valet-parked vehicles. Primarily it seemed to cater to an Asian market coming in tour buses, one presumes, mostly from San Francisco and also Sacramento, which is not far to the east.
A local side trip takes one to an olive-oil plant run by the tribe. I was out of season but the opportunity to purchase something was certainly there.

Comments