Review Detail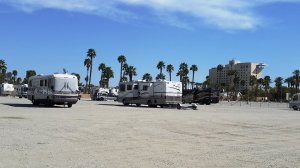 I stayed for several weeks, only leaving to dump tanks at the nearby free dump site at Valley Sewer or fill up on potable water at the Loves Truck Stop, both about 5 minutes away. Made several friends here who also stayed for a period of time.

Feels pretty safe as security comes through several times per day. Dog friendly! I noticed a lot of people with dogs and there is a large dirt lot behind the parking area where travelers and locals take their dogs out to play.

This will be a regular stop for me when I am in the area.
Comments