Review Detail
3.9
5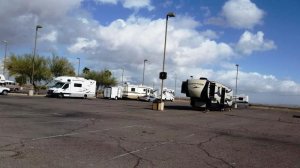 Report from Rick and Lucky Lucy, February 2008

We have stayed -- dry camped -- at Harrah's Ak-Chin Casino in Maricopa, AZ, on several occasions. Like many other Indian casinos this one is out in the country several miles from any town. There is plenty of parking for RVs of all sizes and there are usually several in the lots. Tour buses and semi trucks also use the lots but there is room to get away from them, especially in a smaller camper. There is a large dairy operation a few miles south of the casino and if the wind is just right, which it often is, you can experience the unmistakable odor of thousands of cattle confined to a small area.

The casino buffet is nothing to write home about but it serves the purpose and the price is right. We had one meal at the steak restaurant (The Range, I think) and I would give it only a D+ for both food and service.

They had a few full pay VP machines at the $1 level but our last visit was over a year ago so those may be history by now. Harrah's is not real big on providing full pay machines.

All in all this is not a bad place to hang out for a couple days if you happen to be in the area.

Comments