Review Detail
4.1
3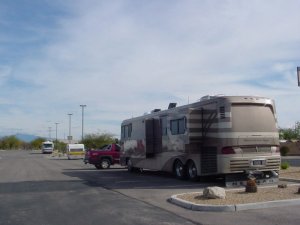 Report from Gary and Cathy A., February 2, 2010
As stated in the previous report, RV parking is allowed. According to Security personnel you can get a parking pass for the week.  We were told that stays less than 7 days did not require a pass.  The bicycle security were around often as was the shuttle. If you enter & exit using the last Casino driveway on Nogales Hwy (immediately before the CAT dealership) you will avoid speed bumps and automobile traffic. The only noise we noticed was in the AM - jets from the Air National Guard located across the street.
 
The lunch and dinner buffets are priced right. Quality & selection was good. You may be disappointed with the limited choices of desserts. Large selection of machines. I thought the air circulation system was poor when the Casino was crowded. Would have liked a non - smoking section.  Definitely will stay & play here again.

Comments