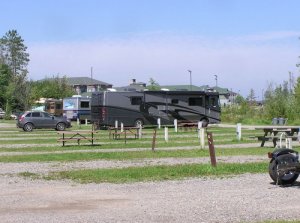 Contact Information
Phone Number:
800-555-1714
Phone Number2:
218-753-6400
Location
Address:
1430 Bois Forte Road
RV Parking and Camping Information
Overnight RV Parking Allowed:
Parking Rules:
Overnight RV Parking is OK
Campground Information
Campground Information:
RV Park with FHU
RV Park with Hookups.
Free Overnight RV Parking is OK yoo
Map
User reviews
August 23, 2010
report from Dave and Dianne, August 23, 2010

Fortune Bay Resort Casino, Tower MN: visited August 23, 2010 16 water/electric sites are $30 ($20 after Labor Day) 20 no hook-ups are $25 Security said that no overnight parking with occupants is allowed in the parking lot. You have to go to the RV park.
Was this review helpful to you?
August 30, 2008
report from Clif V., August 30, 2008

Fortune Bay Casino Located near Tower Minnesota. They will allow free parking in the lot, check with Security on where to park. They have a nice little RV park with 30 water & elec sites and 20 no hookup sites and a dump station. RV park was $15.00 w/hookups last time I was there, lot size is approx 15 x 60, some pull through. Lots are level with gravel roads and pads, park is very quiet, nice shower bathroom facilities but quite small. Distance from Casino is about 300 yards, good restaurant in casino, beautiful lake area, good snowmobiling in the winter, nice golf course
Was this review helpful to you?