Sky City Casino and RV Park
Hot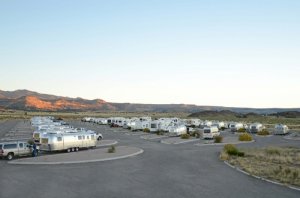 Contact Information
Phone Number:
888-759-2489
Location
Directions:
Exit 102 on Interstate 40, forty-five minutes west of Albuquerque, New Mexico.
RV Parking and Camping Information
Overnight RV Parking Allowed:
Parking Rules:
RVs are requested to park either with the trucks or in a lot to the east of the casino.
Campground Information
Reservations:
Reservations are accepted.
Amenities:
• 42 75-foot big-rig-friendly pull-thru sites
• 20, 30 & 50 amp electrical service
• Water and sewer at each site
• Dump station
• Laundry within walking distance
• Immediate access to Interstate 40
• Travel Center: Gas & Diesel fuel available, Hair Salon, Supply Store

Internet Access:
Free WiFi
Pet Information:
Pets are welcome (follow pet etiquette guideline)
Campground Information:
• Check in after 2pm
• Check out at 11am
• Quiet Hours from 10pm – 7am
Facilities:
RV Park guests are allowed to utilize the pool, spa, hot tub, fitness room, and other facilities at the hotel.
Site Information:
Prices start at $22 a night. Discounts are available.
RV Park and Overnight RV Parking IS Allowed
Map