Fantasy Springs Casino
Hot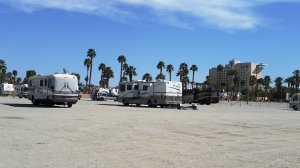 Location
Address:
84245 Indio Springs Dr
Directions:
Exit I-10 at the Golf Center Parkway. As you get tot he casino parking lots, take the first left into the "overflow" parking lot. The RV Parking is directly past the paved parking lot.
Cautions:
The overflow paved parking lot has signs stating "no camping". However, continue through this parking lot onto the large gravel lot. Overnight RV Parking is allowed in the gravel area.
RV Parking and Camping Information
Overnight RV Parking Allowed:
Parking Rules:
No stay limit.
Parking Area Description:
Large gravel field near the casino for RV Parking. This field doesn't belong to the casino and has been used for years for many RV's to stay for great lengths of time.

Read the reviews to learn where you can dump for free and get water.
Casino Information
Liquor Served:
Liquor Comped to Players
Types of Gaming
Slots
Video Poker
Table Games
Race Book
Overnight RV Parking IS Allowed near the casino.
Map